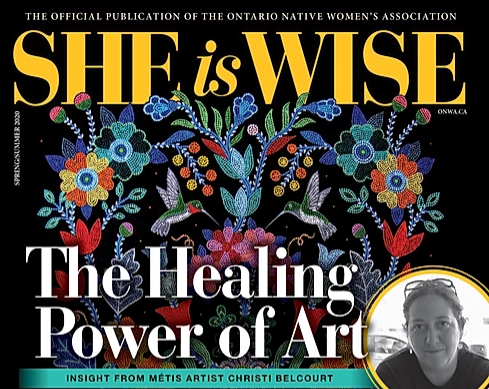 The Ontario Native Women's Association (ONWA) is proud to share the official launch of the second edition of "She is Wise" magazine.
This edition focuses on art as a tool for healing. At the time the theme was chosen, ONWA could not have conceived the global pandemic that would see a worldwide need for healing. Healing has always been a central focus for ONWA. Indigenous women are the centre of our community, and when they are healthy and well, so too are their families and our extended community. Indigenous women know what their needs and capacity are for healing. We've been doing it for generations, and we understand that healing is a spectrum.
It is hoped that the visual beauty and powerful words within will bring both enlightenment and joy at a time when we can all use these gifts in abundance.
https://www.onwa.ca/post/she-is-wise-magazine-explores-art-as-a-tool-for-healing