"We walk together to forge a new path"
Karen Mackenzie
Cree-Métis & HIP Board Member
In 2014, a small group of Rotarians from several southern Ontario Rotary clubs sat in the basement of a building in Oshawa talking about creating a country wide organization to work in partnership with Indigenous Peoples. We have gone from planning on the back of an envelope to establishing HIP's multi-year plan.
While we continue to listen and learn, we also reflect, adjust and build on our successes. We have taken huge steps forward including increasing our board to 20 members selected from communities stretching from coast-to-coast. Bringing some of Canada's brightest minds and biggest hearts together has resulted in an updated vision and mission.
As Indigenous and Non-Indigenous partners, we are committed to working together. While we have refined our focus with an emphasis on relationship building, we will continue our education and awareness activities including supporting the next generation of leaders and changing knowledge, attitudes and behaviours.
HIP growth means increasing Indigenous and Non-Indigenous participation. We encourage and support relationship building between Rotary clubs and Indigenous communities. As we discover shared purposes, values and how to better support one another, we will be building a better country.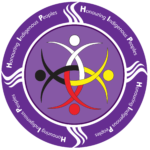 Our logo was designed by Jennifer Wemigwans, Anishnaabekwe (Ojibwe/ Potawatomi) from Wikwemikong First Nation. The four colours of the medicine wheel represent many things. In this specific design we are using the symbolic image of people and the four colours to represent the four races of human kind. They are intertwined and inter-related to symbolize that we are all dependent upon one another and that only together do we represent the strength of the circle – a complete unity. The outer circle that envelops the four races is done in purple and white to pay homage to and acknowledge the importance of wampum belts and their historical bond for bringing together people in this land. Traditional wampum beads are a blend of white and purple. The waves emitting out from the circle symbolize the ripple effect and strength that comes from being united as people.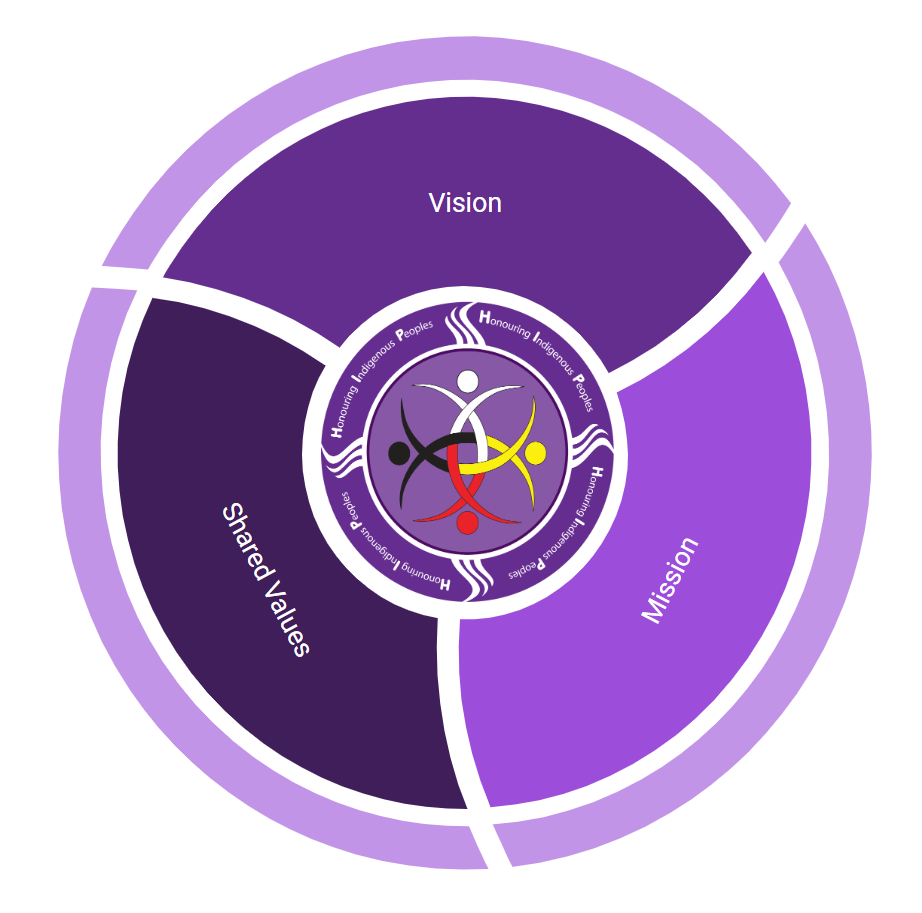 Our mission is to catalyze societal change by inspiring Indigenous & Non-Indigenous
relationship building, strengthening community well-being and advancing the next generation of leaders.
Our vision is that all Indigenous and Non-Indigenous Peoples work together,
interconnected and interdependent, for the benefit of future generations.
While HIP remains focused on education, awareness and relationship building, we place emphasis on building of meaningful, equitable and long-lasting relationships. By creating bonds and supporting one another, we employ key elements needed to walk the path together.
MEET OUR BOARD
While we have maintained our constitutional mandate of 50% Indigenous and 50% Rotarian, we have also taken it one step farther by ensuring the board is 50% female and 50% male and geographically dispersed from coast-to-coast. A balanced board provides us with a diverse set of perspectives, expertise and competencies. We are committed to making this an ongoing operational reality.
Chris Snyder
Chairperson
Rotary Club
of Toronto, ON

diane
Kahontakwas
Longboat
Mohawk Nation Turtle Clan, Six Nations Grand River Territory, ON
Andre Morriseau
Ojibway,
Fort William
First Nation, ON
Larry Frost
Ojibway, Serpent River First Nation, Toronto, ON
Jan Fox
Rotary Club of Edmonton, AB
Tim Karihwake Thompson
Mohawk Wahta Mohawk Territory, ON

John Andras
Rotary Club of Toronto, ON
Michael Gauthier
Rotary Club of Collingwood- South Georgian Bay, ON
Lisa Farano
Rotary E Club of
Social Innovation, ON

Diane Redsky
Ojibway, Shoal Lake #40 First Nation, MB
Tom Herman
Rotary Club of Wolfville, NS
Audrey Gilbeau
Bingwi Neyaashi Anishinaabek, ON
Robert Blacker
Rotary Club of Steveston, BC
Pat Neuman
Rotary Club of Calgary Stampede Park, AB
Katherine Whitecloud
Wipazoka Wakpa (Sioux Valley) Dakota Nation, MB

Jim Louttit
Rotary Club of Toronto Sunrise, ON
Maurice Switzer
Mississaugas of Alderville First Nation, ON
MEET Our Team
While our network of thousands of supporters are the heart of HIP, the Board of Directors recognizes our work would not be possible without the dedication and hard-work of our staff. We are proud to introduce you to our team of professionals who empower, facilitate and support our members.

John Currie
Executive Director Past President of the Rotary Club of Pickering
Clay Melnike
Director, Partnerships & Special Projects member of the Rotary Club of Thornbury-Clarkson
Sean Baillie
Chief Technical Officer
Past President of Rotary Club of Pickering
Gordon Craig
Senior Advisor
Removing Barriers to Education & Coordinating Logistics