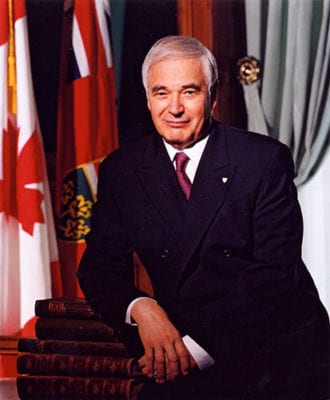 HIP lost a true friend with the passing of the former Lieutenant Governor of Ontario, the Honourable James Bartleman.
Our association with Mr. Bartleman predated the beginnings of HIP. It started when he addressed the Rotary Club of Toronto about mental health in 2007. He used his own experiences which came from his upbringing. His mother was Chippewa from Mnjikaning First Nation, the main reserve of the Chippewas of Rama First Nation.
He was the first Indigenous Lieutenant Governor from Ontario. He was known for his advocacy for literacy and education in Indigenous communities. From the lunch came a partnership between Rotary and the Dolly Parton's Imagination Library Foundation and Mr. Bartleman's Indigenous literacy initiative. The Dolly Parton Foundation provides a book every month to children from 0-6.
The first community to receive these books was Deer Lake about 2 hours northwest of Thunder Bay. Members of Rotary went invited for its launch. This turned out to be one of the most memorable days of my being a Rotarian. This was the first Indigenous Imagination Library initiative in Canada. It has since grown to 250 communities. This initiative was the start of a partnership and relationship with Mr. Bartleman which continued until his death.
When the Rotary Club of Toronto considered being involved on an ongoing basis with
Indigenous Peoples, we asked for input from some contacts we knew, Mr. Bartleman was one of them. When asked how we should be involved, his reply and the others was a loud and clear one word – education. Education has continued to be one of HIP's three areas of focus to this day. The other areas are creating awareness and building of relationships.
After Mr. Bartleman left office, his commitment to the Indigenous Peoples was passed on to his successors, the Honourable David Onley and the Honourable Elizabeth Dowdswell. They have been supportive to this day including hosting a number of gatherings at Queens Park recognizing the work HIP does. His work has also continued through his son Alain, now a lawyer working for and with the Indigenous community. Alain has spoken to a number of clubs and continues to support us behind the scenes.
While no one is immortal, people can be remembered by the work they did and the lives they have impacted. In addition to all of the great work he did with the Canadian government and the Indigenous Peoples, Mr. Bartleman has left an indelible legacy with HIP and Rotary.
We will be forever thankful of the support, ideas and guidance he has given to us all and the ensuing benefits for all with whom we associate.
CHI MIIGWETCH
Chris Snyder, Chair
HIP (Honouring Indigenous Peoples)