Written by Danielle Harder, HIP communications committee member
Saturday, Sept. 30 marks Canada's third National Day for Truth and Reconciliation.
It's also known as Orange Shirt Day, a day of remembrance and awareness started by Phyllis Webstad a decade ago in Williams Lake, B.C.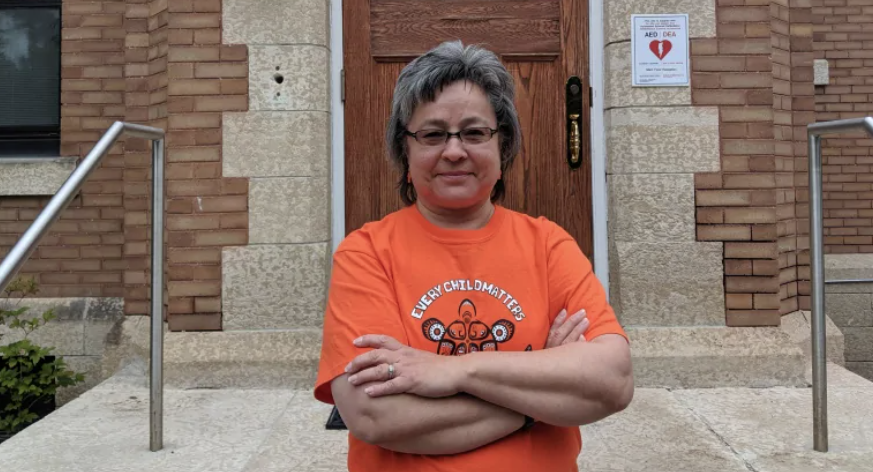 By now, you may have heard the story of Phyllis' first day at St. Joseph's Mission Residential School. It was 1973 and her grandmother had taken her shopping at the local Robinson's department store to buy a new outfit. She chose a shiny orange shirt.
"It was bright and exciting, just like how I felt to be going to school for the first time," she says.
Her excitement soon changed to fear. Here's Phyllis reading from her book Orange Shirt Story.
Phyllis first shared her deeply personal story as a residential school survivor at a media announcement for the St. Joseph's Mission Residential School Commemoration Project in 2013.
That day, she chose to wear an orange shirt. It was a symbol of everything that was taken from Indigenous children by residential schools: family, friends, culture, language and, yes, even their favourite clothes.
Soon after, Phyllis founded the Orange Shirt Society and now tours the country to raise awareness about the impacts of the residential school system. Recently, she published two books, the Orange Shirt Story and Phyllis's Orange Shirt for younger children.
Her group also coined the slogan "Every Child Matters."
"We chose 'Every Child Matters' because of how, when I shared my story, I talked about how I felt I did not matter," she says. "We could be sick, hungry, tired, lonely, cry your eyeballs out at night – there wasn't an adult to come and make it better. Five and six-year-olds should not be comforting each other. And that's what was happening."
I first read about Phyllis when Orange Shirt Day spread to Whitby, Ontario when my three sons were in elementary school. They asked if I would buy them orange shirts and told me what they had learned in school. I soon realized I had a connection to Phyllis.
In the spring of 1973, my white settler family moved from Saskatchewan to Williams Lake, B.C.
As a little girl, I shopped at that same Robinson's department store as Phyllis for my back-to-school outfit but I have only happy memories of the fresh excitement of a new school year.
In high school, my school bus drove past St. Joseph's Mission Residential School ever day. To us, it was simply "the Mission" – an faded, worn down, two-storey school on the Sugar Cane Reserve.
It had closed a few years earlier but no one questioned its history or existence. None of us questioned the reserve either – why Indigenous people were forced to live outside of town and made to feel unwelcome in town. And we certainly were not taught about it in school.
Later, as a cub reporter with the Williams Lake Tribune, I became aware of the Mission's notorious history as charge after charge was laid in connection with those who worked and taught there.
Since then, I've learned not only about the horrific abuse there but also about those who either died in the school or trying to flee it. The National Centre for Truth and Reconciliation Memorial Register lists 16 children dying at the site but an ongoing investigation has revealed at least 28 children died on the grounds. Another 66 potential burial sites have also been identified.
The trauma of the residential school system showed up every day in my community and my classroom but in the 1980s we didn't connect the dots. On the day I saw the first news alert about the potential burial sites, I cried. Later, I wept as I watched Chief Willie Sellars on the news. I had gone to school with the great nieces and nephews of these murdered children and not known anything about their cruel past.
This is why the National Day for Truth and Reconciliation matters. It's not a day "of" truth and reconciliation, which would suggest non-Indigenous people in Canada know the full truth and have therefore achieved reconciliation through the acceptance of that truth.
It's the word "for" that matters here. On this day, it is the duty of non-Indigenous Canadians to really to listen to Indigenous people, to give them the space, time and platform to hear those truths – as uncomfortable and painful as they may be – and to take action to make reconciliation a verb, not a noun.
HIP's annual Youth-2-Youth (Y2Y) event is an example of this. We bring together Indigenous and non-Indigenous young people to engage in meaningful cultural exchanges, learn about Indigenous traditions, and deepen their understanding of Indigenous history and heritage.
Youth are our future and our hope for meaningful reconciliation.
This is why Phyllis is on the road several weeks every year talking about Orange Shirt Day and promoting her books. She seeing a societal shift that tells her the hard work is worth it.
"We had a waitress in Victoria the other day that graduated in 2021 and was asking us about our orange shirts and she almost started crying when when it was told to her that I was the founder of Orange Shirt Day because she started learning about it in Grade 5," Phyllis recalls with a smile. "She was telling people in the in the restaurant, so we had people coming up to our table."
On this tenth anniversary of Orange Shirt Day, Phyllis feels hope.
"The way that I'm noticing the difference is that I am being looked at as a human being," she says. "It is not such a struggle to do things like it's been hard having to work twice as hard to get half as far."
However, she cautions the struggle is far from over and she urges non-Indigenous people to use this day as a time to learn and reflect.
"The day was created to have conversation just plain and simple. And it's as simple as that."