The Rotary Club of Belleville and several local area Indigenous Peoples Partnerships Cluster clubs (IPCC) joined in presenting bursaries to students at Lakehead University, Laurentian University and St. Lawrence College in Kingston.
Two of the 2022 Indigenous Professional Development Bursary recipients are Leticia Wabash, Lakehead University, Thunder Bay and Margaret Arquette, St. Lawrence College, Kingston.
Leticia finished her second year of law school at Bora Laskin Faculty of Law at Lakehead University. Some of the roles she held this past year involved being the President of the Indigenous Law Students Association, student rep on the Indigenous Law Justice Institute Committee and the Anishinaabe Omaa-Minowaywin Committee. She also had the wonderful opportunity to work as the Program Coordinator with PBSC and the OFIFC in working to launch an Indigenous Human Rights Clinic in Thunder Bay, ON. Her future plans involve finishing third year of law school and writing her BAR exam in 2023, with a hope to practice either in Indigenous, Criminal or Human Rights Law. Wherever she ends up, she hopes to continue working with community.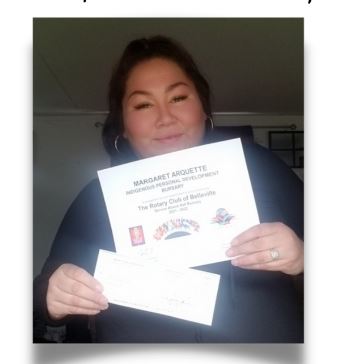 Margaret Arquette is a graduate of the two-year Early Childhood Education program at St. Lawrence College. She hopes to begin her career locally in a childcare centre at the Akwesasne Mohawk Reservation community and teach the Mohawk language to young children. She is very excited to receive the award.
Congratulations to all 2022 recipients!