The Rotary Club of Langley Central hosted their annual in-person sold out luncheon in March 2022. Guest speaker was Phyllis Webstad from Williams Lake and author of The Orange Shirt Story in 2018. She is the inspiration behind Orange Shirt Day held on Sept 30th to mark the day children were taken away from their families. It is now federally recognized as the National Day for Truth and Reconciliation. Phyllis described the impact of residential schools on several generations of her family and her personal account of having her new orange shirt and clothing taken away on arrival at school. Phyllis says "the color orange has always reminded me of that and how my feelings didn't matter, how no one cared and how I felt like I was worth nothing. All of us little children were crying and no one cared". Proceeds from the luncheon were designated to the Orange Shirt Society.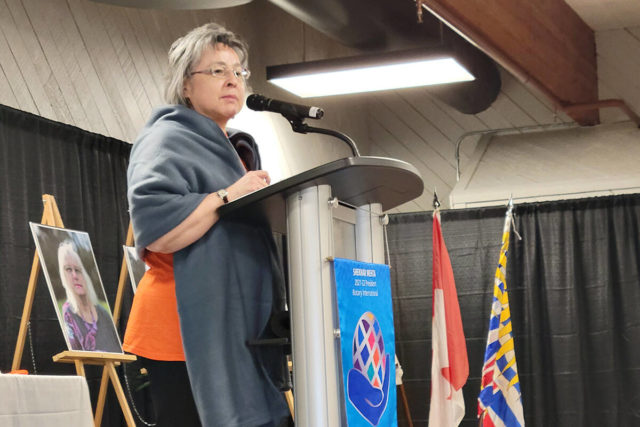 View the video of Phyllis' engagement,
https://www.langleyadvancetimes.com/community/video-founder-of-orange-shirt-day-tells-her-story-at-langley-event/
Special guest, Tina Taphouse spoke about her personal experience of the "Sixties scoop" of Indigenous children in Canada. She was given up for adoption so she wouldn't be sent to the Kamloops Indian Residential School. Tina designed an Orange Shirt for sale to raise funds for the Orange Shirt Society.
Three women, Carol Metcalfe, Faith Bateman and Fern Gabriel were recognized for their outstanding work in the community. Fern, from the Kwantlen First Nation is a language teacher and story teller known for her efforts to bring awareness and action to the revitalisation of First Nations culture.
HIP Co-Ordinator, Linda Mross was on the event organizing committee. Congratulations on a successful event in 2022!