An online book club and interview series showcasing Indigenous authors and illustrators, as well as cultural teachings about the Anishinaabe lunar calendar launched on January 28, 2021.
Hosted by Janet Rogers, a Mohawk/Tuscarora poet and owner of Ojistoh Publishing, the monthly series, called 13 Moons 13 Reads, will feature video interviews with Indigenous authors, poets and illustrators.
Launched by GoodMinds, a First Nations family-owned bookstore and distribution centre in Six Nations of the Grand River, it will cover all genres of literature and highlight Indigenous authors such as Alicia Elliott, David Robertson and Tanya Talaga.
GoodMinds is owned by Achilles Gentle, whose mother is Sandra Samatee is a member of Skownan First Nation in Manitoba. Samatee is working with Rogers to film and produce the videos for the series.
The first video talks about the connection between the Anishnaabe calendar and the shell of a turtle. The shell of a turtle has 28 small plates around the edge, one for each day in the lunar month. There are also 13 larger "scutes" or plate sections on a turtle shell, one for each of the moons in the year. Rogers also speaks to the signifcance of each of the moons and the events of the year that they signify.
"For instance, Giitchi-giizis, which is the Elder Moon, is the first moon of creation. This is a time to ask Grandmother Moon for special guidance and protection for the winter," said Samatee.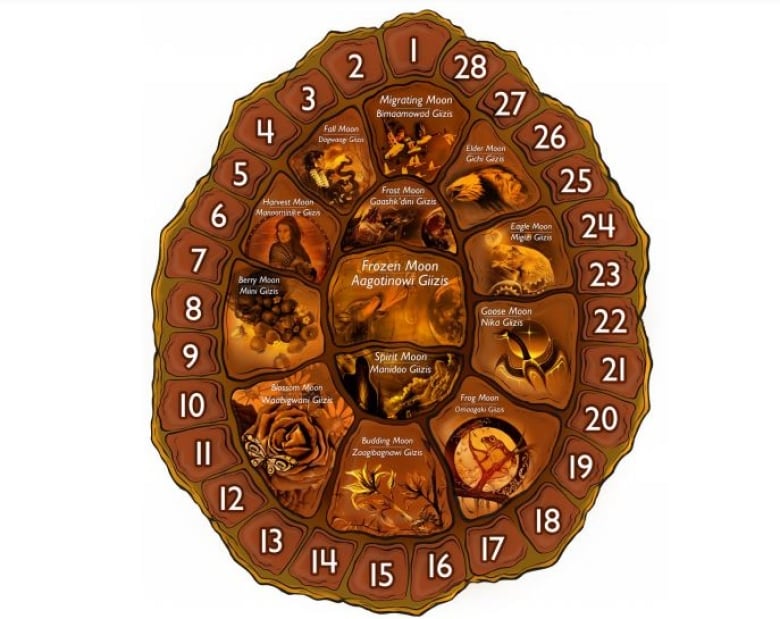 The series will be available on the Goodminds.com website and YouTube page.