In 2023, the Indigenous Peoples Partnerships Cluster (IPCC) awarded eight bursaries of $1,000 each to students of Lakehead University, Laurentian University and St. Lawrence College. The Rotary Club of Belleville selected two students.
Kaycie Brant – St. Lawrence College (presented by the Rotary Club Cataraqui Kingston on Belleville's behalf)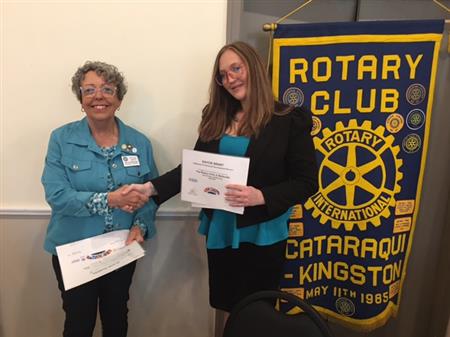 Kaycie Brant is a Mohawk from the Tyendinaga reservation. She is a Mature, First-Generation student who has recently finished the Community and Justice Services Program at St. Lawrence College, and has been accepted to the Bachelor of Arts in Justice Studies at Royal Roads University.
Kaycie has shown dedication to her studies and her community. Kaycie attended a global learning opportunity in Ireland and has volunteered with Street Health.
Kaycie's goal with continuing her education is to apply for Queens Law once she has completed her bachelor's degree with Royal Roads University. Kaycie has just been selected as this year's Valedictorian for St. Lawrence College.
Olivia Adams – Lakehead University (bursary was presented by President Elect Sharon Hollinsworth of the Rotary Club Lakehead on Belleville's behalf)
Olivia is in her fourth and final year of the Bachelor of Science in Nursing program at Lakehead University(LU). Through her studies and experiences at Lakehead and the Thunder Bay Regional Health Sciences Centre(TBRHSC), she has found a passion to make a difference in her community. In her current roles as Infinite Reach Facilitator and Métis Student Liaison with the Métis Nation of Ontario (MNO) and LU, she hosts and facilitates cultural and informative events to connect students to the local MNO community councils, and to the various programs, services, and events of the MNO and LU.
While at Lakehead, Olivia has been part of the the Lakehead University Nursing Association (LUNA) and Lakehead University Scientists Club (LUS) for several years. As part of LUNA, she is an advocate for her classmates, shares opportunities and resources and provides support through the year. LUS focuses on empowerment of self-identifying women in science, technology, engineering, math and medicine (STEMM).
While at the TBRHSC, she volunteers with the Hospital Elder Life Program (HELP) and is a member on the Volunteer Advisory Council. In the HELP program, Olivia assists in preventing delirium in hospitalized seniors by helping maintain cognitive and physical functioning throughout hospitalization. Also, she trains and orients new volunteers to the HELP program and ensures all trainees are comfortable, As a member of the Volunteer Advisory Council, Olivia provides feedback, current knowledge, assists with needs assessment, and supporting the TBRHSC organization.
"I really enjoy being part of the community and am passionate about volunteering with patients at the TBRHSC, and supporting my fellow Métis and nursing student at Lakehead University."
 Congratulations to all 2023 bursary recipients! Keep up the great work in your studies!
Make an Impact!
Support Youth Programs