Orange Shirt Day, now known as National Day for Truth and Reconciliation, is held annually on September 30th. It is an opportunity to create meaningful discussion about the effects of Residential Schools and the legacy they have left behind. A discussion all Canadians can tune into and create bridges with each other for reconciliation. A day for survivors to be reaffirmed that they matter, and so do those that have been affected. Every Child Matters, even if they are an adult, from now on.
Orange Shirt Day was initiated by Phyllis Webstad a Northern Secwpemc (Shuswap) from the Stswecem'c Xgat'tem First Nation (Canoe Creek Indian Band). She comes from mixed Secwepemc and Irish/French heritage, was born in Dog Creek, and lives in Williams Lake, BC. Today, Phyllis is married, has one son, a stepson and five grandchildren. She is the Founder and Ambassador of the Orange Shirt Society, and tours the country telling her story and raising awareness about the impacts of the residential school system. She has now published two books, the "Orange Shirt Story" and "Phyllis's Orange Shirt" for younger children.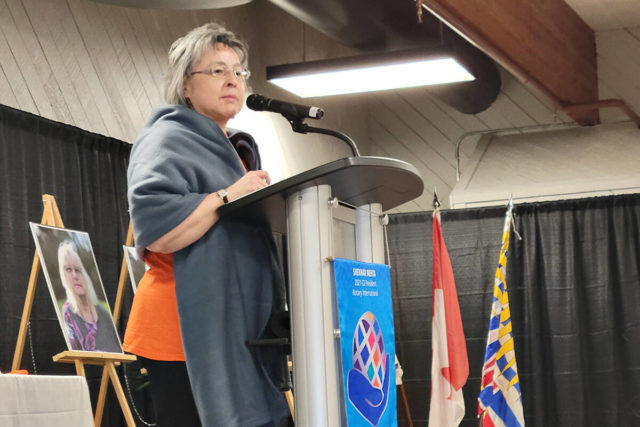 Read
Phyllis' Story
The date was chosen because it is the time of year in which children were taken from their homes to residential schools, and because it is an opportunity to set the stage for anti-racism and anti-bullying policies for the coming school year. It is an opportunity for First Nations, local governments, schools and communities to come together in the spirit of reconciliation and hope for generations of children to come.
2022
You're invited to
"beyond the Orange Shirt Story"
Come feel the cleansing power of Niagara!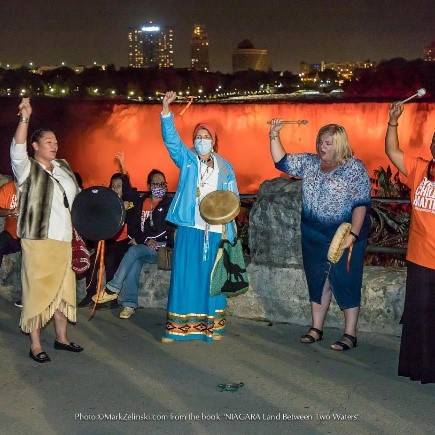 Beyond the Orange Shirt Story is a week long event hosted in Niagara Falls Ontario and designed to honour Residential School Survivors.
Sponsor a Residential Survivor From Your Region
Rotary clubs across Canada are encouraged to sponsor Residential School Survivors from their area to attend the Beyond Orange shirt story events honouring residential school survivors. We have arranged a special air travel discount code with WestJet for Residential School Survivors to attend this event and there will also be a discount with selected Niagara area hotels.
In the Niagara Falls area in the week before Sept 30, there are a series of events planned to honour Residential School Survivors leading up to Sept 30 – National Day of Truth and Reconciliation. Phyllis Webstad, the originator of Orange Shirt day will be in attendance and a key speaker along with her extended family and other Residential School survivors to participate in the weeks events.
WestJet Promo code info: We are offering 20% off promo code for travel from anywhere in Canada to/from Toronto (YYZ) or Hamilton (YHM) on regularly scheduled and marketed WestJet flights for participants to attend the 2022 National Day of Truth and Reconciliation events at Niagara Falls. The details are:
• Promo code (when booked via WestJet.com): 4Q6L5TQ
• 20% off Basic, Econo, and Premium
• Travel September 23, 2022 to October 3, 2022
• No blackout dates
• Valid for travel from all Canada to/from YYZ or YHM
• Bookings must be made before August 23, 2022
For updated information visit the event facebook page:
https://www.facebook.com/groups/525686242562854
For more information see the HIP web page or for up to date posts see:
https://www.facebook.com/groups/525686242562854
Contact Jim and Marjorie Dawson at (519) 583 3328 or Send Email
If you are hosting an event to commemorate residential school survivors and their families, please email the details to [email protected] and we will list it here.